History & Seal
School History
What opened 80 years ago was Yakima Valley Academy…in 1921 or 1922.  That school had to close down because the young people were literally causing it to split the seams. Walls were held together by metal cables mounted on both sides of the rooms.  They had to find a bigger place and Elder Mote was empowered by the brethren to spend no more than $100,000 for a school.  Elder Mote came to the auction for the old poor farm in Spangle, Washington but the opening bid was over his limit.  He told the auctioneer that he guessed he couldn't bid, so it was lowered to an opening bid of $100,000.  Elder Mote's was the only bid and YVA got it, along with 15 hogs that they sold for $1500 to provide operating capital for the first year of school.  After the move, the academy was renamed Upper Columbia Academy.
The School Seal
The seal of Upper Columbia Academy was designed in 1958 by a group of students and faculty under the direction of the principal, Elder J. V. Peters.
Each symbol represents some aspect of Christian education important to life on the Upper Columbia Academy campus.
Brief Description: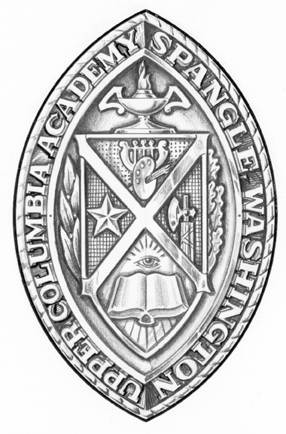 Rope Border – Lifelong Friendship
Shield – Defending Each Other
"Chi" (X) – Jesus is Central to Everything
Star – High Aims & Goals
Lyre and Palette – Academics & The Arts
Mace – Respect for Authority
Eye & Book – Responsibility for the Use of Time
Lamp – Seeking Knowledge & Truth
Laurel Leaf – Achievement & Giving our Best
Oak Leaf – Strength & Courage