March 31, 2010
UCA Academy Day is April 12th 2010
Chat with teachers, staff, and students to learn first hand about life at UCA
Tour the campus, classrooms, and dorms.
Meet with administrators and financial aid advisor
Start your collection of UCA gear with a free t-shirt!
Chances to win scholarships!
Academy Day Visitors Schedule 2010
Click below to read more about…



March 31, 2010
Sixteen Upper Columbia Academy students joined the Walla Walla City Church on a mission trip to the All Nations Center in Wapato over spring break. Projects this year were coordinated by Eric Hanson, Tom Black Eagle, Doug Brown, Wade Brooks and Mike Hanson, Bob Gable, Terri & Jeff Weijohn. UCA sponsors were Tony & Kathy Purvis, and Lynda North. Many contractors such as Tony Purvis came and headed up projects.
Roseanna
Aubriann
Clarissa
Bradley
Amanda
Cody
Re'Jean
Jacob
Brian
Aryel
Jake
Sunwoo
Lianne
Yuji
Zach
Spencer
Participants helped with the church service on Sabbath; with remodeling several homes including one for Tom Black Eagle; built woodsheds; split and stacked wood; painted stairs, wheelchair ramps and other items; picked up and hauled away trash; and held a Vacation Bible School in Adams' View, a neighboring community.
Each day the students enjoyed having breakfast and worship together in the morning, a busy morning of projects, VBS in the afternoon and then playing in the gym after dinner in the evening.  Students visited the Cultural Center, a museum, and Miners, a nearby restaurant. Several native elders also visited and spoke to the group. Projects were aimed at assisting elders of the community.  All recipients of assistance and the VBS were invited to a Salmon Feed sponsored by the ANC and the local lumber company. It was very-well attended and several elders got up and expressed their appreciation for the help they'd received and for the quality work.
Special thanks to the Weijohn's for letting us stay with them: Jeff and Terri; Bud and Mary. It was greatly appreciated!
Thank you so much for everyone who was able to contribute with prayers, and donations for this trip.
View the Mission trip Photo Album
Thoughts and Comments from the students:
Aryel:
"On the mission trip to the ANC we did a lot of jobs and also a VBS where I met a lot of little kids who were awesome. There was one little boy who stood out the most to me… One day while we were there he was saying" You're the church people!" "You're the church people!" I asked him, "Why do you keep calling us the church people?" He told me, "I like it when you guys come. I love you guys!"  That was the best thing that happened while I was there. It made my week even better."
Aubriann:
"Teaching the people about Jesus and showing kindness really changed their hearts. We now see peace, thankfulness, and happiness in their faces.
Roseanna:
"My favorite thing about the mission trip was to see all the people's smiles, and how they said they don't know what they did to deserve it, and that they must have been doing something right for God to be giving them something like this. And they also said that God was good."
Anonymous:
"Over spring break I went to Wapato, WA to the All Nations Center. While we were over there we worked on the Indian Reservation fixing up houses. We built and painted wheelchair ramps, built woodsheds and moved their wood into them., picked up trash, and painted some houses. My favorite part about it was giving to the people without expectations of anything in return. I think mission trips are the best way to praise God and bring both you and God joy. A lot of the time I just want to stay in my comfort zone, but staying in my own world doesn't allow God to work through me. I had a lot of fun on the trip bringing other people happiness, which gave me a lot more joy than if I were to do something for myself."
Anonymous:
"One family dragged a 98-year-old woman to the door to talk with the girls who were helping to paint her wheelchair ramp. Then she came to the salmon feed and was so happy to be there and for all of us."
"The students were so touched by all the kindness and appreciation they received from everyone there. They are all wearing their key chains in their hair or using them. They really like them. They really enjoyed the visit to Johanna's bead shop."
-This report was written by Trip Sponsor: Lynda North
March 29, 2010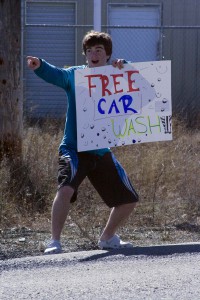 Dear UCA Family,
Thank you for praying for our mission trips.  We've been receiving good reports from Mrs. Haeger heading the Peru Mission Trip Team.  The Namu Mission Trip has returned safely.  They had some challenges, but were able to make some good contacts.  The All Nations Trip also returned with good reports.  They joined with the Walla Walla City Church and were able to complete over 80 projects for the people on the Yakama Reservation.
Did you know…HOPE (Helping Other People Everywhere) Taskforce on Sunday, March 14 reached our closet neighbor as well as Russia.  Here are some highlights:
219 fleece hats were made for orphans in Russia under Mrs. Mann's supervision.
Students built a fence for our neighbor Nona Hengen plus cleaning her art studio, landscaping and more.
Students wrote thank you notes to nurses in Cheney's nursing homes.
A meal and cards of encouragement were prepared for the women at Anna Ogden Hall.
Students offered a free car wash at the Harvester Restaurant in Spangle.  Check out the attached picture.
View the menu remember the home leave bus schedule is also available with the drivers' cell numbers.
LOOKING AHEAD….
| | |
| --- | --- |
| Gymnastics Tour – Moscow/Lewiston | Fri-Sat, Apr 2-3 |
| The Deliverer | Fri-Sabbath, Apr 2-3 |
| WWU Days | Sun-Tues, Apr 4-6 |
| Band/Choraliers Tour – Yakima/Walla Walla | Fri-Sat, Apr 9-10 |
| ACT | Sun, Apr 11 |
| ACADEMY DAY | Mon, Apr 12 |
| Week of Prayer | Mon-Sabbath, Apr 12-17 |
| Sunday School | Sun, Apr 18 |
| Advanced Biology Field Trip | Sun-Wed, Apr 18-21 |
| Home Leave | Wed-Sun, Apr 21-24 |
| Gymnastics Tour – Alaska | Wed-Tues, Apr 21-27 |
| Blood Drive | Thurs, Apr 29 |
Please Pray For…
Safe travel for all our students and staff as they return from spring break and mission trips.
Let us continue praying for positive changes for the people our students ministered to on their mission trips.
Our students and staff as they begin fourth quarter.
God bless,
Troy Patzer – Principal
March 16, 2010
This past weekend was grandparent weekend at UCA.  The culminating event is the Spring Arts Festival.  It is a celebration of creativity in voice, art, instrument, and much more.
For part of the program, the UCA band (under the direction of Dean Kravig) performed "Allegro Barbaro", a difficult number in 2/2 and reaching tempos of 178 beats per minute.  In the midst of performing this difficult song, the Spangle area, and UCA, suffered a momentary loss of electrical power.  The gymnasium went pitch black but the band kept playing without being able to see their music.  The power came back on and the band finished the song.  The song was met with wild applause and a standing ovation.
A proud parent shot video of this performance and UCA is happy to share it with you.  Enjoy.

UCA Band Plays Through A Power Outage from Mark Janke on Vimeo
Watch all videos for UCA during the 2009-2010 School year
March 12, 2010
Dear UCA Family,
The excitement is building – Grandparent Weekend begins tomorrow night at Vespers in the church and the Borneo and Namu Mission Trip leave on Sunday morning.  Students will be bringing joy to our community on Sunday in various HOPE Taskforce projects. The Peru trip departs on Tuesday then spring break begins and the All Nation Mission Trip departs on Wednesday.  The campus will be silent for a week and a half while our students are out sharing the love of Jesus with the world.
Did you know… that there are some exciting SUMMER WORK opportunities this year.  Check out the Upper Columbia Conference's Youth Rush http://www.uccsda.org/magabook for youth 16 years old and older.  Walla Walla Valley Camps is another great option and students don't have to live in Walla Walla to apply.  Contact Dan Solis at valleycamps@gmail.com.   "A wise youth works hard all summer; a youth who sleeps away the hour of opportunity brings shame." Proverbs 10:5 NLV
View the menu remember the homeleave bus schedule is also available with the drivers' cell numbers
All Nations will be returning on Tuesday, March 23. Parents, please make arrangements in advance to either pick up your students from the All Nations Center by 10:00 a.m. that morning, or at 1:00 p.m. from UCA that day.  Notify Lynda North lynda.north@ucaa.org or 509-245-3610 by Tuesday, March 16. Thank you.
LOOKING AHEAD….
Spring Break                                                                       Wed-Sun, Mar 17-28
The Deliverer                                                                     Fri-Sat, Apr 2-3
Gymnastics  Tour – Moscow/Lewiston                   Fri-Sat, Apr 2-3
WWU Days                                                                         Sun-Tues, Apr 4-6
Band/Choraliers Tour – Yakima/Walla Walla         Fri-Sat, Apr 9-10
ACT                                                                                        Sun, Apr 11
Academy Day                                                 Mon, Apr 12
Week of Prayer                                                                Mon-Sabbath, Apr 12-17
Please Pray For… Safe travel for all our students and staff over spring break, especially those going on mission trips.  Let's also pray that the efforts of the mission trips will have a spiritual impact on the people they will be reaching and a lifelong impression on our students and staff going.
God bless,
Troy Patzer – Principal
March 12, 2010

Another decade of yearbooks (1980s) has made it to the world wide web.  Visit the yearbook archives to view the 1980s yearbooks and all the years from 1920-1989.  Check them out!  They're rad.
March 8, 2010
72 new photos of Senior Recognition Talent Program 2010 are online.  Visit the "9am-5pm Senior" themed recognition talent program photos.
A new video of The UCA band Clinic 2010 is online. It features one of the songs that the 189 member band played.
March 8, 2010
Dear UCA Family,
Did you know… Fifty-three students will be going on four UCA sponsored mission trips over spring break.  A few more UCA students are going on trips sponsored by other organizations or family.  Borneo has the largest number –  32 UCA students, All Nations has 14, the NPUC/UCA Peru trip has six and Namu has one. Twelve of our staff are giving up their spring break to support, guide, preach, translate or whatever else needs to be done to make the trips successful.  Thank you to the many of you that have donated to help this experience become a reality for these students.
LOOKING AHEAD….
Grandparent Weekend                                                 Fri-Sat, Mar 12-13
Borneo/Namu Mission Trips Depart                        Sun, Mar 14
Peru Mission Trip Departs                                            Tues, Mar 16
End of 3rd Quarter                                                            Wed, Mar 17
Spring Break                                                                       Wed-Sun, Mar 17-28
Yakama Nation Mission Trip Departs                       Wed, Mar 17
I know the students and staff that are on tour appreciate your prayers.   Those going on mission trips would also like your prayers to be going ahead of them for the Holy Spirit to prepare the hearts of the people they will minister to.  Thank you for joining us in prayer for them.
God bless,
Troy Patzer – Principal