December 21, 2010
The following is a note from Mark Janke:
"Over the last year and a half, I have worked hard to completely digitize the UCA yearbook collection -with the help of many students, staff and alumni.  This project has enabled alumnus to revisit their old yearbook and reminisce.  These digital books are also used for on-campus history assignments.  Basically, it makes them usable without using them up.
Since leaving my teaching position at UCA last spring, I have struggled to find the time to finish this big goal.  At last, the goal is accomplished -and just in time for Christmas.  I hope that the alumni, staff, and students will enjoy the last installment of the UCA yearbooks (the 1990′s-2000′s) as much as I have while putting these books together for online use.
Many Blessings and Merry Christmas!"
Find the newest uploaded versions of the UCA yearbooks here.
September 15, 2010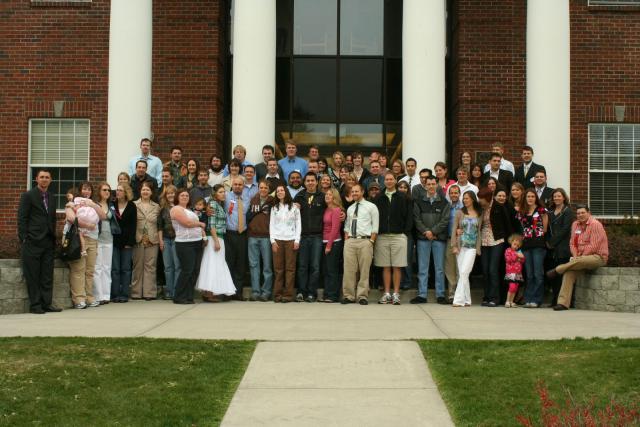 Come to UCA for Alumni Homecoming Weekend, October 1-3, 2010. More information is in the Alumni Newsletter.
Read the Alumni Newsletter for weekend information.
GOLF Tourney Information- UCA Foundation
Honored classes are '30. '40, '50, '60, '70, '75. '80, '85, '90, '00 and '10
April 10, 2010
It is with a heavy heart that UCA shares the news of Olin Peach's death yesterday (April 9, 2010) at his cabin.
The beloved teacher Mr. Peach, had an unrivaled passion for life, Adventist education, outdoor sports, missions, and most of all the Savior.  UCA would not be what it is today without his life-long leadership & influence.  There are no words which can start to capture the ways that Mr. Peach allowed Jesus to work through him.  He will be sorely missed.
"For the Lord Himself will descend from heaven with a shout, with the voice of an archangel, and with the trumpet of God. And the dead in Christ will rise first.  Then we who are alive and remain shall be caught up together with them in the clouds to meet the Lord in the air. And thus we shall always be with the Lord.  Therefore comfort one another with these words." – 1 Thessalonians 4:13-18
We look forward to the day when our Savior returns we can again be reunited with Mr. Peach.
As Mr. Peach's family shares more information with UCA concerning his death & funeral arrangements, updates will be posted on the UCA website, Facebook, and Twitter accounts.
Please keep the family in your thoughts and prayers.
March 12, 2010

Another decade of yearbooks (1980s) has made it to the world wide web.  Visit the yearbook archives to view the 1980s yearbooks and all the years from 1920-1989.  Check them out!  They're rad.
February 18, 2010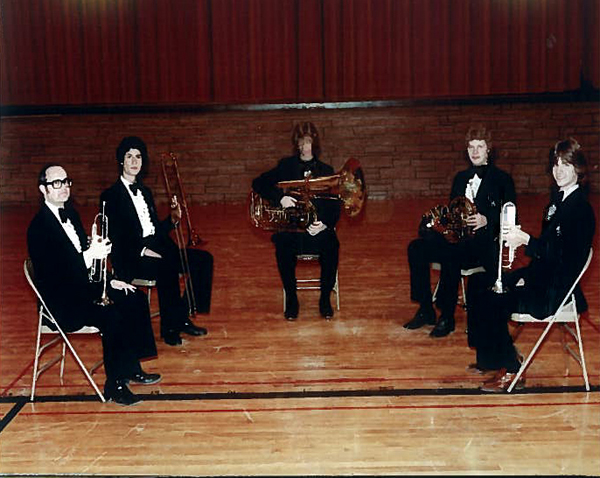 While digging through the Alumni Archives, a copy of the 1982 Brass Quintet was discovered.  This recording is a great example of the enduring excellence of UCA's music department and talented students.  This entire recording is listed below (track by track) for your downloading & listening use.
The musicians are Jerry Lange (Trumpet I), Jeff Hilde (Trumpet II), Keith Gimble (French Horn), Robert Schmidt (Trombone), and Glen Gimble (Tuba).
01 Scherzo and Leid
02 fanfare
03 Tritsch-Tratsch Polka
04 Andant et Allegro Trombone Solo
05 Scherzo
06 The Easy Winners
07 Junk Man Rag
08 Concert Piece in F Minor
09 The Harlem Rag March
10 Sir Duke
11 Suite for Tuba – 1. Allegro Maestoso 2. Andante Expressivo
12 Suite for Tuba – 3. Allegro con Brio
13 Sempre Fidelis
14 Mississippi Rag
15 Tailgate Breakaway
16 Two Pavans
17 Prelude and Fugue in B Flat
18 Canzon II
19 Gagiarda II
20 Gagiarda I
21 Rondeau
22 Sonata from Die Bankelsangerleider
February 8, 2010
Is the past really the way we remember it?  Were our glasses that shape? Was our hair that style? Did we ever look that young?  A new video on ucaa.org seems to confirm some suspicions about the past.
This video was discovered (below) as part of UCA's ongoing effort to digitize yearbooks and other historical items.  The original purpose for the video was to function as a promotional piece for school recruitment.  The video is primitive by today's production standards & somewhat comical because of plot-lines and various fashion statements.  However, the basics of what make UCA a great school were the same then as they are now.
It is nice to see that the important parts of UCA don't change.
Visit the entire media Library
Visit the Echo Log (yearbook) online archives
January 29, 2010

Another decade of yearbooks has found its way onto the UCA website.  The 1970s are now live.  The 2000 yearbook is also online in celebration of Alumni Homecoming (Fall 2010).
As we are digitizing these books, they are getting longer which has led to an interesting observation.  On average, more students attended UCA with each passing decade.  What a great blessing for UCA.  This also means that digitizing the books is taking longer because the books are longer.  We'll keep working on this project.  Thanks for visiting the yearbook archives.
View the 1970s and 2000 Echo Logs.
January 22, 2010
Another decade of the Echo Log digital yearbooks is online.  Hundreds of pages of UCA in the 1960s are available for your online browsing, downloading as PDF, or printing.
Visit the Yearbook Archives to see all digital yearbooks.
Go directly to a 1960s yearbook:
November 6, 2009

As noted in a previous new item (See previous post), UCA is digitally archiving many of our historical documents & artifacts.
Part of this project is to digitize the Echo Log & Pitcanook yearbooks from UCA & YVA.
The latest update to the archives are all of the yearbooks from the 1950s.  You can now browse through these books on the yearbook archives page or visit the following links:
The 1950s
October 30, 2009

Following the burning of the Upper Columbia Conference Office (Fall 2008), UCA began making digital backups of the historical photos, yearbooks, and videos in our archives. These digital records are being saved in many locations to ensure the survival of records in the event of a disaster similar to that of the UCC Offices.
The online digital yearbook archive is one result of this undertaking.  The online editions of the yearbooks are presented in their complete printed form -except for pages which contain personal information.  At this point, the collection is still growing and eventually all yearbooks will be available for online browsing.
Visit the on-line yearbook archives.